Christopher Gilliam, chorale director
Nancy Johnston, accompanist
Join us!
The Symphony Chorale is comprised of nearly 120 auditioned singers from around the Triad. The group rehearses weekly on Monday evenings from 7:00 – 9:30. Additional rehearsals are scheduled during the week prior to a performance.
Auditions for the 2016/17 Season will be held August 1 and August 8. All voice parts are welcome. You will be asked to sing something you already know and to do some sightreading.
Sopranos
Moriah Bias
Alexandra Tofan
Amanda Richards
Amy Goldwine
Andi Brooks
Ann Galiger
Anne Safrit
Ashely Larson
Betty Ferguson
Betty Jones
Beverly Culbreath
Beverly Shaw
Carlie Spainhour
Cindy Warlick
Deborah Wesley
Denise McKibbin
Elaine Ragland
Elisa Burton
Erica Helmle
Gretchen Marsden
Heidi Shafer
Jenna Hollingsworth
Jenny Viars
Karen Cromer
Karen Yoak Lewis
Kathie Eppert
Lee Lashley
Lucia Denk
Marjorie John
Megan Bright
Nastassia Kharoshka
Nikki Johnson
Roberta Turner
Sandria Kerr
Sarah Putnam
Stephanie Keys
Susan Balde Avery
Susan Griffin Worth
Tami Colvin
Tenors
Barry Scott Foster
Craig Collins
Fred Kahl
Gordon Cobb
Guy Oldaker
Halbert Jones
Herb Parunak
Jack Campbell
Jay Hale
Jay Parsons
Kerry Garrett
Kevin Mundy
Matthew Brooks
Robert Ulery
Wendell Putney
Altos
Anna Simionides
Barbara Gerhard
Barbara Kunkle
Barbara Lawrence
Bettie Pfiffner
Briana McClarin
Byah McGee
Cindy Aiken
Cynthia Leonard
Diana Salmons
Donna Jaffe
Elaine Tesh
Elizabeth Morgan
Erin Doby
Frances Burmeister
Glenda Brown
Harriett Smith
Isabelle Berquin
Jan Ma'luf
Jill Carson
Joan Decker
Joia Johnson
Judy Crow
Lela Busey
Linda Frey
Lois Roewade
Lynn Pritchard
Marcia Deem
Marion Williams
Mary Lorick Thompson
Nancy Ann Bruce
Parker Freeman
Patricia Stewart
Phoenix Putney
Rebecca Church
Sandria Kerr
Sheila Keen
Susan Hill
Susan Huneycutt
Susan Kerner
Susan Yount
Veronica Siebert
Basses
Alan Keely
Bill Gibson
David Thomas
Don McDonald
Doug Gilbert
Gerry Gunzenhauser
Hal Garrison
Jack Scruggs
Joel Stegall
John Burchette
John Garrou
John Hammon
John Woodmansee
Ken Carpenter
Kevin Hayes
Lew Saphar
Lyle Jaffe
Michael Seeds
Paul Harder
Quentin Woodward, Jr.
Sean Burman
Wilson Somerville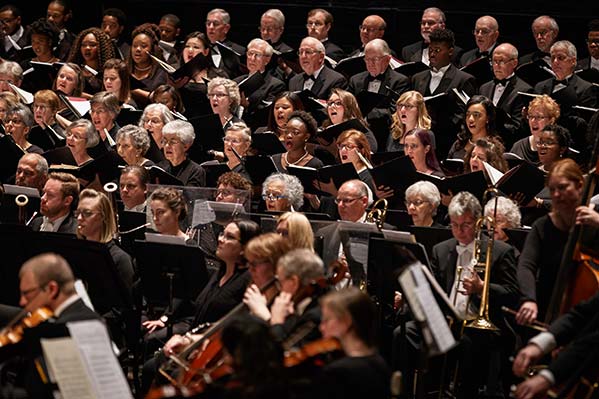 ---
Chorale Council
Jenny L. Viars, Chair
Debbie Wesley-Farrington, Chair-Elect
Sandria Kerr, Treasurer
Isabelle Berquin, Librarian
Bill Gibson, Social Rep

---
About the Symphony Chorale
The Winston-Salem Symphony Chorale traces its beginnings to the 1940's; at that time, there were three vocal groups in Winston-Salem, which eventually merged in 1960 to form the Singers' Guild. The Singers' Guild often performed concerts with the Symphony, and in the fall of 1971 merged with the Symphony and became the Winston-Salem Symphony Chorale. The Chorale has been directed by David Partington, Norman Johnson, Peter Perret, Donald Armitage, James Allbritten, and Dr. Carole J. Ott, and currently is under the direction Dr. Christopher Gilliam. The Chorale consists of nearly 120 auditioned volunteer singers, many of whom are members of area church choirs and university choruses. The Symphony and Chorale perform large choral masterpieces which in recent seasons have included Haydn's Creation, Orff's Carmina Burana, and the Requiem masses of Mozart, Brahms, and Verdi. The Chorale also joins the Symphony on earlier, smaller-scale works such as Bach's St. John Passion and an annual production of Handel's Messiah. Additionally, the Winston-Salem Symphony Chorale holds its own performances in local venues, providing intimate and moving choral experiences for audiences away from the Symphony concert hall.