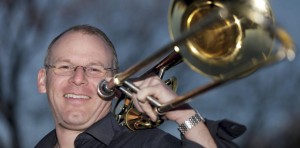 Brian French joined the WSS as principal trombonist in 2000, and made his Classics Series solo debut in February 2002.  Brian has held principal positions in the Arkansas Symphony Orchestra and the Civic Orchestra of Chicago (the training program of the Chicago Symphony Orchestra), and has performed frequently with the North Carolina Symphony.  He has made regional appearances with many orchestras, including those of Roanoke and Greensboro as guest principal trombonist, tenor tubist, and bass trumpeter.
Brian is a native of Greensboro and received both his Bachelor and Master of Music degrees from Northwestern University, counting Frank Crisafulli, Jay Friedman, and Arthur Linsner among his primary teachers. While in Chicago, he became active as a recitalist and chamber musician, and made appearances with the Millar Brass Ensemble, London Brass, and the Storioni Ensemble.
During the summers, Brian has performed at the Eastern Music Festival in Greensboro, the Bravo! Vail Valley Music Festival in Colorado, and the Pacific Music Festival in Japan.  In addition to his classical endeavors, he has performed in New York, Chicago, and Los Angeles with jazz greats such as Henry Mancini, James Moody, Marcus Roberts, Rufus Reid and Michael Kocour.
Brian is on the music performance faculty of Wake Forest University, having previously taught at Davidson College.