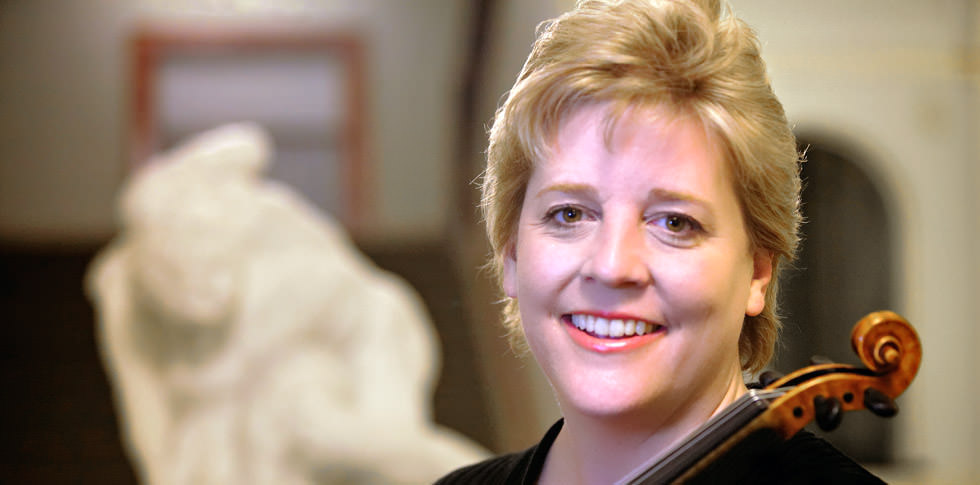 Corine Brouwer is well-known to North Carolina audiences. She is currently the concertmaster of the Winston-Salem Symphony, the Asheville Lyric Opera, and is a member of the Arizona MusicFest Orchestra. She has made recent appearances in both the Arizona MusicFest Orchestra and the Portland (Maine) Symphony. Her latest performances have been applauded by critics, with reviews saying "She was amazing" and "She realized the composer's style and intent perfectly" (The Portland Press Herald). "Her playing was alternately tender and assertive and individual." (The Greesnboro News and Record)
Ms. Brouwer has been involved in the commissioning and performances of new works, including the premieres of Doppleganger, a concerto for two violins by David Dzubay, and Here, the Cliffs, a concerto by Hilary Tann. Her projects have won numerous awards, including selection for a national Meet the Composer Award. Ms. Brouwer has appeared as a soloist with the North Carolina Symphony, the Portland (ME) Symphony, the Winston-Salem Symphony, Canton (Ohio) Symphony, Carolina Chamber Symphony, Western Piedmont Symphony, and the Salisbury Symphony Orchestra.
Past chamber music appearances have included the Eastern Music Festival, the International Bartók Festival, and the Saugatuck Chamber Music Festival. A former director of the Community Music School of the University of North Carolina School of the Arts (UNCSA), Ms. Brouwer has taught violin at Wake Forest University, UNCSA, Catawba College, and the National Suzuki Institute in Wisconsin. Currently, she maintains a private studio and is owner of Allegro Music, Inc.
Ms. Brouwer earned her bachelor's and master's degrees at UNCSA, where she studied with the late Elaine Richey.