D. J. Sparr's Violet Bond:
Music
in the

New World


January 7, 8, and 10, 2017
Stevens Center of the UNCSA

D. J. Sparr, composer and guitarist
Robert Moody, conductor
Winston-Salem Symphony

Sibelius Symphony No. 5 in E-flat Major
D. J. Sparr Violet Bond Concerto for Electric Guitar
DvoŘák Symphony No. 9 in E minor, "From the New World"
Tickets from $20
plus tax
Single tickets for these concerts available Monday, August 15.
Other ways to purchase:
By Mail: Download and complete this form and send it with payment to:
Winston-Salem Symphony
201 N. Broad Street, Ste. 200
Winston-Salem, NC 27101
By Phone: (336) 464.0145
Plan Your Experience
Stevens Center of the UNCSA
405 W. Fourth St.
Winston-Salem, NC 27101
Find Nearby Dining on Open Table
Share This Concert:
Sponsors:
D. J. Sparr: LIVE from Heyday Guitars!
Thursday, Jan 5, 2017 at 9 p.m.
Heyday Guitars
414 Brookstown Ave., Winston-Salem
Guest artist D. J. Sparr will be performing an evening of his electric guitar compositions. Sparr will perform solo on his first set and in the second set will be joined by Winston-Salem Symphony Assistant Concertmaster Rebecca Willie on violin. This is a special opportunity to get a taste of the electricity of Sparr's guitar compositions in an intimate and relaxed setting!
Admission is free and open to the public. The concert will be livestreamed on the Symphony's Facebook page.
Music Lovers' Luncheon
Friday, Jan 6, 2017 at noon
1703 Restaurant
1703 Robinhood Rd., Winston-Salem
Fun and informative preconcert lunch with the conductor and additional guests from the Symphony. $20 per person. Reservations required: (336) 464-0145.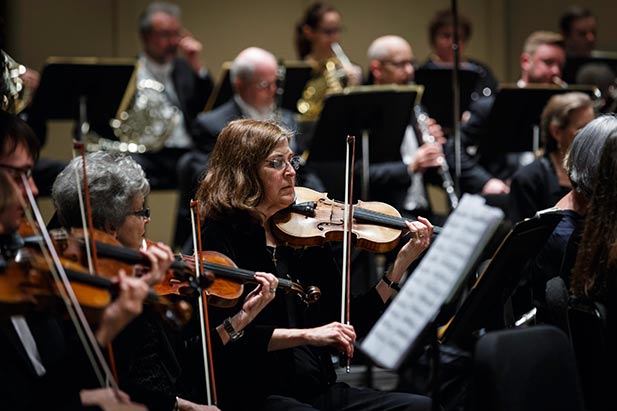 Musical Morning
Saturday, Jan 7, 2017 at 10 a.m.
SalemTowne Retirement Community
190 Moravian Way Dr., Winston-Salem
Lively and informative preconcert program with guests from the Symphony. Free to the public, with light refreshments served. Reservations required: (336) 464-0145.
D. J. Sparr
D. J. Sparr merges art-concert craft with influences from music he performed as a young guitarist. For the performance of Sparr's BMI/Boudleax Bryant Fund Commission for eighth blackbird, the Albuquerque Tribune wrote: "…in the sextet's piece The Glam Seduction, the 1980s rock music of Eddie Van Halen meets the instrumentation of Niccolò Paganini. … The result: Paganini on coke."
On YouTube
In this interview and video by Alexandra Gardner for New Music Box, composer and electric guitarist D. J. Sparr discusses his composing philosophy and life as a working musician. Includes excerpts of his performance of Violet Bond with the California Symphony.