Classics Series:


Schubert & Mozart


November 13 & 15, 2016
Stevens Center of the UNCSA

Mark Stringer, guest conductor
Daniel Skidmore, violin
Simon Ertz, viola
Winston-Salem Symphony

Schubert Symphony No. 8, "Unfinished"
Britten Double Concerto for Violin and Viola
Mozart Symphony No. 41, "Jupiter"

Photo © J Farley Photography
Tickets from $20
plus tax
Tickets to these concerts available Monday, August 15.
View Seating Chart
Stevens Center of the UNCSA
Sunday, Nov 13
3:00 p.m.
Classics Series
Tuesday, Nov 15
7:30 p.m.
Classics Series
Other ways to purchase:
By Mail: Download and complete this form and send it with payment to:
Winston-Salem Symphony
201 N. Broad Street, Ste. 200
Winston-Salem, NC 27101
By Phone: (336) 464.0145
Plan Your Experience
Stevens Center of the UNCSA
405 W. Fourth St.
Winston-Salem, NC 27101
Find Nearby Dining on Open Table
This is a toy drive concert to benefit The Salvation Army of Greater Winston-Salem. Please donate a toy and bring joy to a local child this year. Donated toys should be new and
not
gift-wrapped.
Thank you!
Share This Concert:
Sponsors: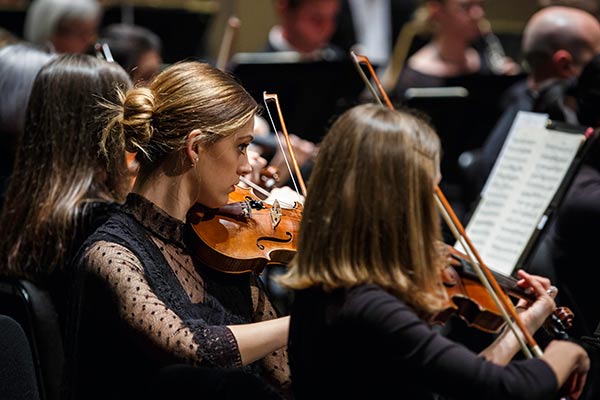 Musical Morning
Saturday, Nov 5, 2016 at 10 a.m.
SalemTowne Retirement Community
190 Moravian Way Dr., Winston-Salem
Lively and informative preconcert program with guests from the Symphony. Free to the public, with light refreshments served. Reservations required: (336) 464-0145.
Music Lovers' Luncheon
Friday, Nov 11, 2016 at noon
1703 Restaurant
1703 Robinhood Rd., Winston-Salem
Fun and informative preconcert lunch with the conductor and additional guests from the Symphony. $20 per person. Reservations required: (336) 464-0145.
Mark Stringer
The American conductor Mark Stringer was born in 1964. He studied at the Juilliard School of Music, the Tanglewood Music Center, and the Los Angeles Philharmonic Institute. His teachers include Seiji Ozawa, Simon Rattle, Michael Tilson Thomas, and Leonard Bernstein who invited him to share concerts on two European tours with the Schleswig-Holstein Festival Orchestra and the Orchestra dell'Accademia Nazionale di Santa Cecilia.
Program Notes
Franz Schubert:
Symphony no. 8 in B Minor, D. 759 ("Unfinished")
Composed in the autumn of 1822, this symphony is the best-loved of Schubert's orchestral music.  For the record, Schubert completed two movements of this symphony and sketched a third (scherzo), nine measures of which were fully scored.  Part of the appeal of the "Unfinished" Symphony lies in the mystery that surrounds its incomplete status, and many theories have been suggested as to why Schubert abandoned it in midstream.
Benjamin Britten:
Double Concerto in B Minor for Violin, Viola and Orchestra
The forty years that have elapsed since the death of Benjamin Britten have only served to enhance the reputation that accrued to him during his lifetime – one of the greatest composers in the history of English music. Gifted from an early age, it is not surprising that under the tutelage of Frank Bridge, several works date from his youth. One work, however—the Double Concerto for Violin, Viola, and Orchestra—remained unfinished and unknown until recent times.
W.A. Mozart:
Symphony No. 41 in C Major, K. 551, "Jupiter"
Mozart's last three symphonies were composed over a period of six weeks during the summer of 1788—an almost unbelievable feat, even for a composer who was famed for working at a breakneck pace.  Together they represent the zenith of the 18th-century symphonic process.  Their grandeur suggests that they were composed for public performance in Vienna, as opposed to any private function, and it may be that Mozart intended to use them for a series of concerts for his own benefit.