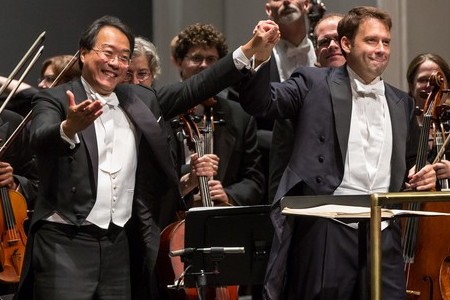 Since its founding in 1947, the Winston-Salem Symphony has been the cornerstone of the performing arts community in what is known as the City of the Arts and Innovation. The vision and mission of the Winston-Salem Symphony are to touch everyone with music and to be a catalyst for an inspired community around innovative musical experiences of the highest quality.
The presence of a vibrant cultural community anchored by a professional symphony orchestra is instrumental to our community's efforts to attract and retain the businesses and highly educated professionals who are likely to help sustain a wide variety of arts and entertainment organizations and offerings throughout the city.
Arts education has been a core component of the Symphony's mission since its founding. It currently produces over 20,000 annual encounters with public and home schooled children ages 5-18 through its educational partnerships with the Winston-Salem/Forsyth County School System, area public and parochial schools, regional conservatories, colleges and universities, and others. The WSS produces nearly 20,000 additional encounters with young people through its various series performance offerings and Youth Orchestras Program.
A Partnership with Mutual Rewards
Your partnership with the Winston-Salem Symphony garners access to Symphony audiences representing demographics worthwhile of sponsorship investment:
45% hold a graduate degree, 96% are college educated
49% have an annual household income of over $100,000, 13% over $250,000
77% are not native to Winston-Salem
The majority of WSS ticket purchasers live in the 27023, 27104, 27106 and 27006 zip code areas
---
Partnership Benefit Schedule
Giving Levels
Ticket Vouchers
Program Ad Discount
(14,000 pieces; 4-6 unique brand appearances per program)
Single Ticket Discount for Employees
Inclusion in annual Winston-Salem Journal salute ad
(69,000 consumers)
Invitations to Symphony special events
Conductor's Club membership
Recognition as concert series sponsor
$500
4 vouchers
10%
20%
Included
Included
$1000
6 vouchers
15%
50%
Included
Included
Included
$2500
10 vouchers
35%
50%
Included
Included
Included
$5000
25 vouchers
100%
50%
Included
Included
Included
Included
(Scroll →)
---
The Robert Moody Effect

It is impossible for anyone who has experienced Maestro Robert Moody during his first ten seasons as Music Director to deny what others across the country have also noticed – that he is one of the most exciting, charismatic, refreshing, and creative conductors in the United States. The WSS is enjoying tremendous revitalization under his artistic leadership.
Moody's lauded tenure in Winston-Salem has included the creation of the Pops, Kicked-Back Classics, and Discovery Concerts for Kids series, along with annual Handel's Messiah, and Concert-for-Community performances; assimilation of the Winston-Salem Youth Orchestras program; addition of an assistant conductor; and hallmark collaboration with numerous groups in the Triad, most notably the UNC School of the Arts, Piedmont Opera and the Greensboro Symphony Orchestra.
Maestro Moody's exciting programming and guest artist selection is attracting diverse new audiences and regularly providing concert experiences that "break the mold" demystify the concert experience without compromising artistic integrity, and demonstrate over and over that "great music is great music."
---
Program Offerings
The WSS presents over 30 concert experiences annually, reaching over 75,000 people each year in a variety of locations from downtown at the Stevens Center of the UNC School of the Arts, to historic Reynolds Auditorium, to the Wake Forest Campus.
The Classics Series is a six cycle, 12 performance series of concerts celebrating the classical masterworks.

Performances are offered on Sunday afternoons and Tuesday evenings at the Stevens Center.
Primary Target Audience Demographics includes adult professionals and retirees.

The Kicked-Back Classics Series is a four-concert series presenting classical masterworks with an educational and casual twist designed for those interested in classical music, but not in the more formal Classics Series format.

Full-length performances are presented at the Stevens Center.
Primary Target Audience Demographics include college students, young professionals and adult professionals.

The Plugged-In Pops Series is a five concert series and celebrates a broad range of popular music styles and artists, focusing on popular music from all generations.

Concerts take place primarily on Saturday evenings at the historic Reynolds Auditorium.
Primary Target Audience Demographics includes young professionals, adult professionals and retirees.

The Discovery Concerts for Kids Series is a three-concert series that serves families with children ages 12 and under.

Pre-concert activities include coloring, a conductor's corner, an instrument petting zoo, and much more.
The Discovery Series season is presented at the historic Reynolds Auditorium on Sunday afternoons to better accommodate the busy schedules of today's families.

Two special performances of Handel's Messiah feature exciting soloists with a chamber-sized orchestra.

Primary Target Audience Demographics includes adult professionals and retirees.

The Concert for Community is a free concert that pairs student musicians from the Winston-Salem Youth Symphony with their adult WSS counterparts. This event takes place at Wait Chapel on the campus of Wake Forest University.
The FOX8/Old Dominion Holiday Concert at the LJVM Coliseum where thousands gather each year to enjoy their favorite holiday music and donate food for our community's hungry.
---
Additional Information
For additional partnership information, please contact Philanthropy and Patron Engagement Manager, Tim Storhoff, at (336) 725-1035, extension 225 or by email at tstorhoff@wssymphony.org.