---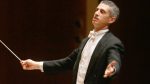 Robert Franz, one of our five finalist-candidates for Music Director, was asked to tell us a unique story that shaped who he is. This was his thoughtful, eloquent, and deeply respectful response.
---
Every once in a while someone comes into your life that changes everything; someone that causes us to turn everything upside down and see the world in a whole new way. For me, that person is Joe. I always introduce him as my teacher, which people assume means my conducting teacher. While he does help me understand my role as conductor, his real consequence is how he helps deepen my understanding of my place in life.
I met Joe about 20 years ago. Joe passed away in the fall of 2017, but not a day goes by without his voice ringing in my head. Joe trained as a dancer, and after a wonderfully vibrant career as a New York City dancer, both modern and on Broadway, he began teaching movement to actors and singers at Boston University. Upon retiring from his second career, he turned his gaze to conductors. Something about the connection between music and movement captured his imagination.
That combination only tells part of the story, though. More than a movement coach, Joe is inspired by the spiritual nature of conducting, and has helped guide many conductors towards a deeper understanding of their role on the podium. Joe demands that the authentic self be present constantly, on and off the podium. He is full of love and energy and a demanding spirit that leaves you asking how you can achieve more. So what is it that he did for conductors? This answer has a number of levels.
First, he increased awareness. We all go through life repeating actions, thoughts, ideas to the point that we stop thinking about the genesis of those ideas. The repetitions stifle our expressive self and cause us to be unaware of that which is around us. As a conductor, this is lethal. Our main focus must be a complete awareness of the world around us. We must be aware of the sounds, the energy, and the universal flow that moves between each of us. When we perform these senses are heightened.
Secondly, he separated the person from the process by insisting our music making be less personal. On the surface, that seems counterintuitive, but in actual fact it is vitally necessary to truly express the music. The more my personality enters the equation, the less easily the music flows through me. My personal feelings also affect the way I respond to the musicians. From the impersonal I can respond directly to the art of making music and not through the lens of my own idiosyncrasies.
Finally, by being aware and not focusing on the personal, we become vessels for the music and for the energy of live music making. This ability to "allow" music to happen rather than "make" it happen is extraordinary. At the precise moment you allow the music to happen, clarity and vibrancy are created and everything changes.
So, why did I study with him for so many years? It's simple. The path to understanding ourselves and our journey is a life-long quest. I am reminded whenever I think of Joe how far I've come and how far I can still go. Joe has guided me through an important part of my journey, and a part of him will be with me forever.
---
Robert Franz conducts the Winston-Salem Symphony in music of Bernstein, Prokofiev, and Rachmaninoff with guest violinist Dovid Friedlander on January 6 & 8, 2019. As an engaged and enthusiastic educator, Franz directs both the Idaho Orchestra Institute and the Fairbanks Summer Arts Festival Orchestra, where he also offers a workshop for young conductors. ASCAP has recognized Franz for his advocacy in arts education. Under his direction, both the Buffalo Philharmonic Orchestra in 2008 and the Louisville Orchestra in 2001 were awarded the Leonard Bernstein Award for Educational Programming. The Louisville Orchestra's award led to the creation of an education program for Kentucky Educational Television entitled Creating Music and Stories. Franz has also created arts education programs for the Carolina Chamber Symphony, West End Chamber Ensemble and the Winston-Salem Symphony, including that organization's innovative Bolton Research Project.