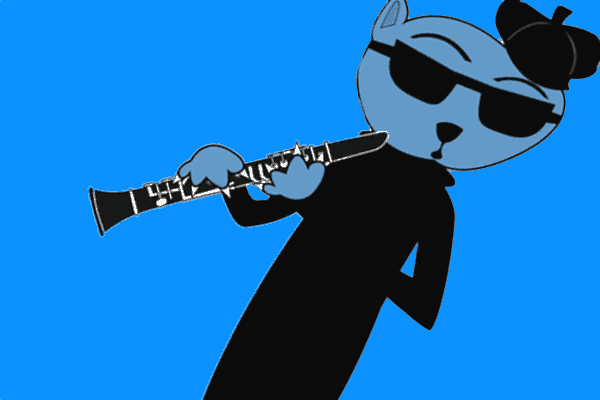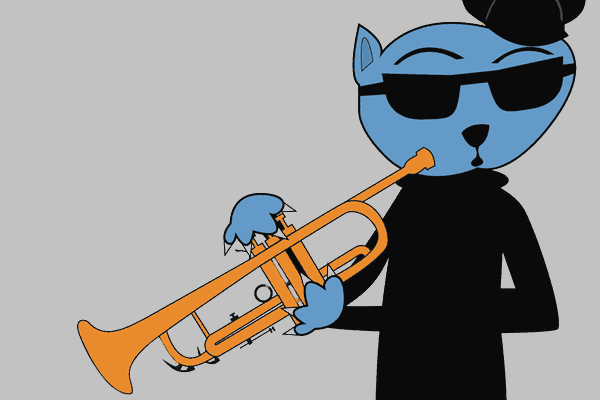 Sam is a cool, music- loving, clumsy cat. She does not stop just because she is clumsy. She thinks she can do it! Sam has loved music since the day she was born. Sam likes her music LOUD and soft. She likes it fast and slow. She likes it hi and low. If she is having an angry moment, she wants angry music. If she is having a wild moment, she wants wild music. If she is in the library, she wants soft quiet music. Sam has lots of friends. Her best friend is Persues, also called Percy. They compose music together. They also play games together. Sam like to play hide and purr.
Sam Reads:
Sam reads musical books, actual music. She also likes to read books about cats, mice and strings.

Sam Listens to:
Sam likes to listen to jazz, because she loves to jam. She likes to dance and twirl and swirl to to music. She's real cool. She like rock n roll because she can dance to it too. Since Sam is so clumsy she dances with other people in public. She also listens to Opera, once she fell asleep at the opera. It was boring because there was not enough bombs and death. A good opera is bombastic.
Sam Watches:
Sam likes to watch music videos, because they bring music to her ears. Sam likes to go to the opera, even if its a kids opera. Her favorite opera is the Magic Flute. She likes all the parts.
Sam Plays:
Sam plays all the instruments, her favorite it the violin. She does not like playing the clavicles, because she thinks just anyone can play them using anything. Sam love to play hide and seek. She likes to be both inside and outside. She likes to play at the beach with beach balls.

How/when did Sam become interested in music?
Sam was interested in music when she was born because it is so interesting and fill her up with happiness.
What does Sam think is the BEST thing about being the Winston-Salem Symphony Mascot?
Sam loves being the mascot for the Winston-Salem Symphony because she gets to dance and sing and listen to music. She also gets to dress up and play with the characters that visit the symphony including Anikin Skywalker.
What is Sam's idea of a perfect day?
Sam's perfect day is listening to music particularly music she writes. Sam plays the piano with her paws. She also likes to visit with her best friend, Percy. Percy and Sam like to play and purr together. They Purr all day and compose Purrr-fect operas on purrr-fect Fridays.
What is Sam's favorite food?
Sam likes "string-cheese."
Does Sam collect anything?
Sam collects notes from composers. Her favorite note is "LA".
Who is Sam's favorite composer?
Sam's favorite composer is Mozart, because she likes to watch Papagano and all the birds in The Magic Flute.
What else should we know about Sam?
When Sam goes to the park, she purrs, purrs and purrs and plays, plays and plays.
Parents!
The best way to learn is by doing…. We've all heard that one before. We'd like to add to that sentiment, however, by insisting that the best way of learning is by doing something memorable. That's where Symphony Sam comes in. Sam has been integrated into our educational programing in a strategic effort to captivate children and adults alike. Over the years Sam has been a part of our Discovery Series teaching audiences not just about the deep complexities of music but also extraordinary issues that transcend the concert hall including fire safety, environmental awareness, nature, recycling, character building, literacy through storytelling and so much more! Of course while Symphony Sam is well versed in all of these subjects and more, Sam's greatest contribution to the Symphony has simply been a greater sense of humor and fun! We hope you will take a moment to introduce your child to Symphony Sam via our "Meet the Mascot" page before your next visit!
---
Kids!
Want to get in touch with Sam? Well…he doesn't have email. He doesn't even have a mobile. You'll just have to text him the old-fashioned way: writing actual text! Sam happily looks forward to receiving your handwritten notes and drawings. Please send them via the mail:

Symphony Sam
c/o Winston-Salem Symphony
201 N. Broad St.
Winston-Salem, NC 27101