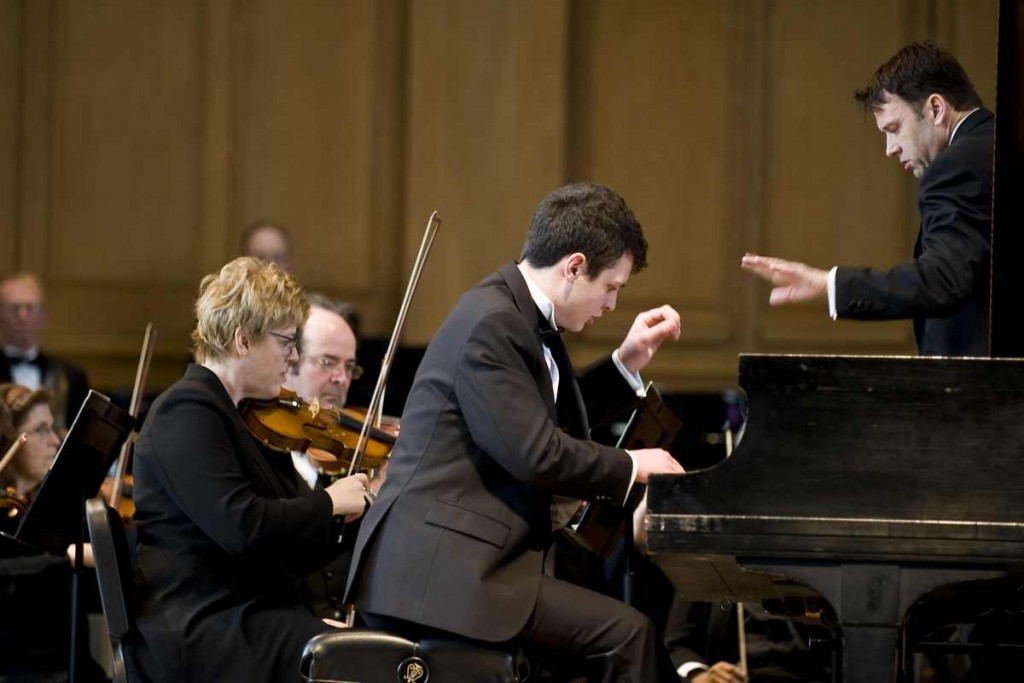 Each year the Winston-Salem Symphony conducts a talent search to identify gifted and accomplished young musicians. Maestro Peter Perret, conductor emeritus of the Winston-Salem Symphony, established the competition as a means of helping to develop young talent, and as a way of recognizing and supporting the teachers and families of musically gifted students.
Participation in the competition also provides students with information and motivation to continue their musical studies. Many have gone on to become professional musicians, including the winner of the very first Peter Perret Youth Talent Search, who is now a member of the New York Philharmonic.
Rules and Regulations
Applicants compete in two age categories:
Junior Level: ages 8 – 12
Senior Level: ages 13 – senior year of high school
Note: age as of first day of preliminary competition; proof of age required on the day of the competition
First, second, and third place winners will be named from each age group. First place winners will be invited to perform with the Winston-Salem Symphony on the upcoming Concert for Community on Saturday, February 3, 2018 in Wait Chapel on the campus of Wake Forest University. (No ties will be awarded; Judges reserve the right to not award any prizes)
First Place Cash Award— $250
Second Place Cash Award— $150
Third Place Cash Award— $100
Application Procedure and Deadlines:
A $30 registration fee ($20 for each additional sibling), must be brought to the preliminary competition. Arrangements for financial assistance must be made prior to the audition. If you are in need of financial assistance, please specify on the registration form, and arrangements can be discussed.
Proof of North Carolina residency may be required.
Registration Deadline: November 1, 2017
Repertoire:
A movement from a concerto is recommended, but other pieces suitable for orchestra are possible. Applicants must provide three (3) copies of music for the judges at the time of the competition. Pieces that are more than 10 minutes in length will need to be cut to fit the allotted time, both in the audition and for the concert performance, should the applicant win.
Accompanists:
For an accompanist for the Winston-Salem preliminary round and final round (Nov. 18th and Dec. 2nd), contact Nancy Johnston, johnsonn@uncsa.edu
For an accompanist for the Durham preliminary round and the Winston-Salem final round (Nov. 11th and Dec. 2nd), contact Qiao Zheng Goh, qiaozheng.goh@gmail.com
Auditions:
It is preferred that auditions be performed from memory, but not required.
Auditions are scheduled in 10 minute segments and competitors will be stopped if the length of the composition exceeds 10 minutes.
Applicants cannot win more than once in the same age category.
No more than eight applicants per age category will advance to the Finals.
After the competition, applicants will receive written results of the competition and feedback from the judges.
All decisions are final and may not be appealed.
Dates and Locations
Preliminary Round:
Saturday, November 11, 2017
Noon – 6pm
Durham Academy
Durham, NC
OR
Saturday, November 18, 2017
Noon – 6pm
Crawford Hall at UNCSA
Winston-Salem, NC
Final Round:
Saturday, December 2, 2017
Crawford Hall, UNCSA
Winston-Salem, NC
For first-place winners
Dress Rehearsal—Saturday, February 3, 2018
10:00am-12:30pm
Wait Chapel, Wake Forest University
Performance—Saturday, February 3, 2018
3:00pm
Wait Chapel, Wake Forest University
Questions?
Please contact Jessica Morel at jmorel@wssymphony.org.
Preliminary Round:
Saturday, November 11, 2017
Noon – 6pm
Durham Academy
Durham, NC
OR
Saturday, November 18, 2017
Noon – 6pm
Crawford Hall at UNCSA
Winston-Salem, NC
Final Round:
Saturday, December 2, 2017
Crawford Hall, UNCSA
Winston-Salem, NC
Registration Deadline: November 1, 2017