In-School Ensembles & Orchestra Concerts
The goal of this program is to introduce all 4th and 5th grade Winston-Salem/Forsyth County School students to the symphony orchestra. In Phase One of the program, woodwind, brass, string, and percussion ensembles visit and perform for all 4th and 5th graders, giving them a close up view of the instruments and how they work. In Phase Two all 5th graders are transported to a formal concert hall to experience a full symphony orchestra concert.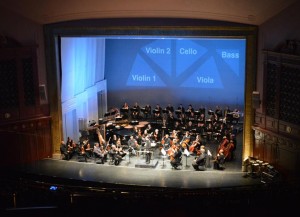 A full-orchestra educational concert
To celebrate the 50th Anniversary of the Mary Starling In-School Education Program in 2010, the Winston-Salem Symphony partnered with the African Library Project (ALP) and Winston-Salem Forsyth County Schools (WS/FCS) to create a first-of-its-kind program through which students learned about music, literacy and other cultures. Through its theme of storytelling and music, The Mary Starling Program illuminated literacy both locally and globally. Additionally, a short story competition resulted in the awarding of free violins and lessons with Symphony musicians to three students who will now play in their school orchestras.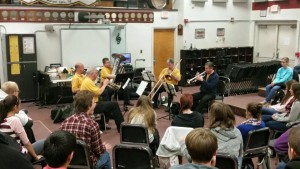 The Symphony Brass Quintet performs for students
The program's small ensemble performances for all 4th and 5th students in WS/FCS and full orchestra concerts were augmented by book drives at 44 elementary schools (sending over 51,000 books to libraries in Africa), a short story competition and in-school integration complete with lesson plans, classroom activities and a companion CD of music.
This program is funded by the Symphony and the Winston-Salem/Forsyth County School System.
Musicians in the Classroom and in the Community
Musicians, both individual and in ensembles of all sizes, bring their training and performance experience directly to students and audiences throughout the Triad. Programs are specifically designed to enhance your school music program or to engage your local community.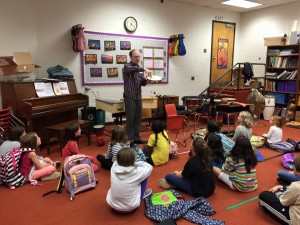 WSS Timpanist Peter Zlotnick demonstrates percussion instruments for young children

These programs give students and audiences an opportunity to meet the musicians of the WSS, experience a live performance, see the instruments up close, and enhance understanding of music, performance practice and much more. Program prices vary according to the scope of your group's needs, duration, and location. Interested in having one or more of our musicians visit your school or classroom? Use the button below to get started!

Meet the Maestro
When she's not on the podium, Assistant Conductor Jessica Morel can be found visiting students and adults of all ages at schools, libraries, and community centers throughout the Triad to discuss music and assist with rehearsals.
Guest Artists Outreach
The WSS often teams up with local schools and community organizations to present up-close opportunities with visiting artists and guest composers. Visiting artists share their insights and experience with students and adults. Classes are often arranged on short notice as artists become available, and details are subject to change pending the rehearsal and performance schedules of the musicians.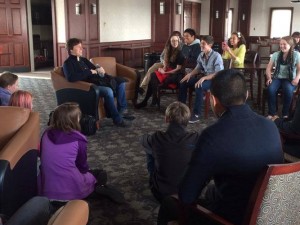 Superstar violinist Joshua Bell chats with young musicians and parents at the Stevens Center
Student Rush
Students, enjoy last-minute discounts available just for you! At each performance, student discounted tickets can be purchased at the door, pending available seating.