Christopher Gilliam, chorus director
Nancy Johnston, accompanist
Sopranos
Jill Aguiar
Susan Balde Avery
Megan Bright
Andi Brooks
Carolyn Carpenter
Susan Gies Conley
Beverly Brown Culbreath*
Carol Davis
Katherine Eppert
Susan Griffin Stockton Worth*
Marjorie John
Nikki Johnson^
Betty Jones*
Sandria Kerr*
Gale Ketteler^
Stephanie Keys
Carol Kirby
Ashley Larson
Lee S. Lashley
Karen Yoak Lewis
Susanne S. Martin
Rebecca McAtee
Heather McIntosh Morgan
Tatiana Pakulova
Carmen Price
Sarah E. Putnam
Anne Wylie Safrit*
Beverly Rudolph Shaw
Patricia P. Short
Carlie Spainhour
Rosa Wen
Debbie Wesley-Farrington
Barbara Wilder
Tenors
Matthew L. Brooks^
Jack Campbell
Craig Collins^
John Ebrahim
Barry Foster
Clay Hamilton
Tom Hauser
Corey R. Hodges
Halbert Jones
Frederic Ross Kahl
Guy B. Oldaker III
Jay Parsons
Herb Parunak
Michael Pleasants
Wendell Putney
Rob Sale
Arthur Stagg
Robert Ulery
Gary Whitt
^ section leader
* affiliate Chorus member
Altos
Irma Alarcón
Elizabeth Barr
Isabelle Berquin
Nancy Ann Bruce*
Frances Burmeister*
Allison Carlisle
Emily Cassidy
Sarah Costanzo
Nicole Dalzell
Joan Decker*
Marcia Deem*
Erin Marie Doby
Ashley Eskridge
Parker St. Clair Freeman*
Linda M. Frey*
Barbara F. Gerhard^
Susan Hill*
Susan Huneycutt
Donna Jaffe*
Joia M. Johnson
Susan Kerner
Barbara Lawrence^
Cynthia Leonard
Patty McKenzie
Elizabeth Morgan
Crista Palmer
Phoenix Harmony Putney
April Ragan
Yulia Roubtsova
Donna M. Smart
Harriett D. Smith*
Kalli Spaugh
Elaine Stoltz Tesh*
Lydia J Whitt
Marion E. Williams*
Susan Wells Yount
Basses
John Burchette
Dudley Carpenter
Ken Carpenter
Guy Dorsinville, Jr.
Eric Durham
William J Frisch
Hal Garrison^
Bill Gibson
Douglass Gilbert
Gerry Gunzenhauser
John W Hammon
Paul Harder
Kevin H. Hayes
Lyle Jaffe
Alan Keely
Don McDonald
Lew Saphar, Jr.
Jack Scruggs
Michael Seeds^
Stan Senft
Wilson Somerville
Joel Stegall
Ryan Thrasher
Anthony Virga
John Woodmansee
Wayne Yancey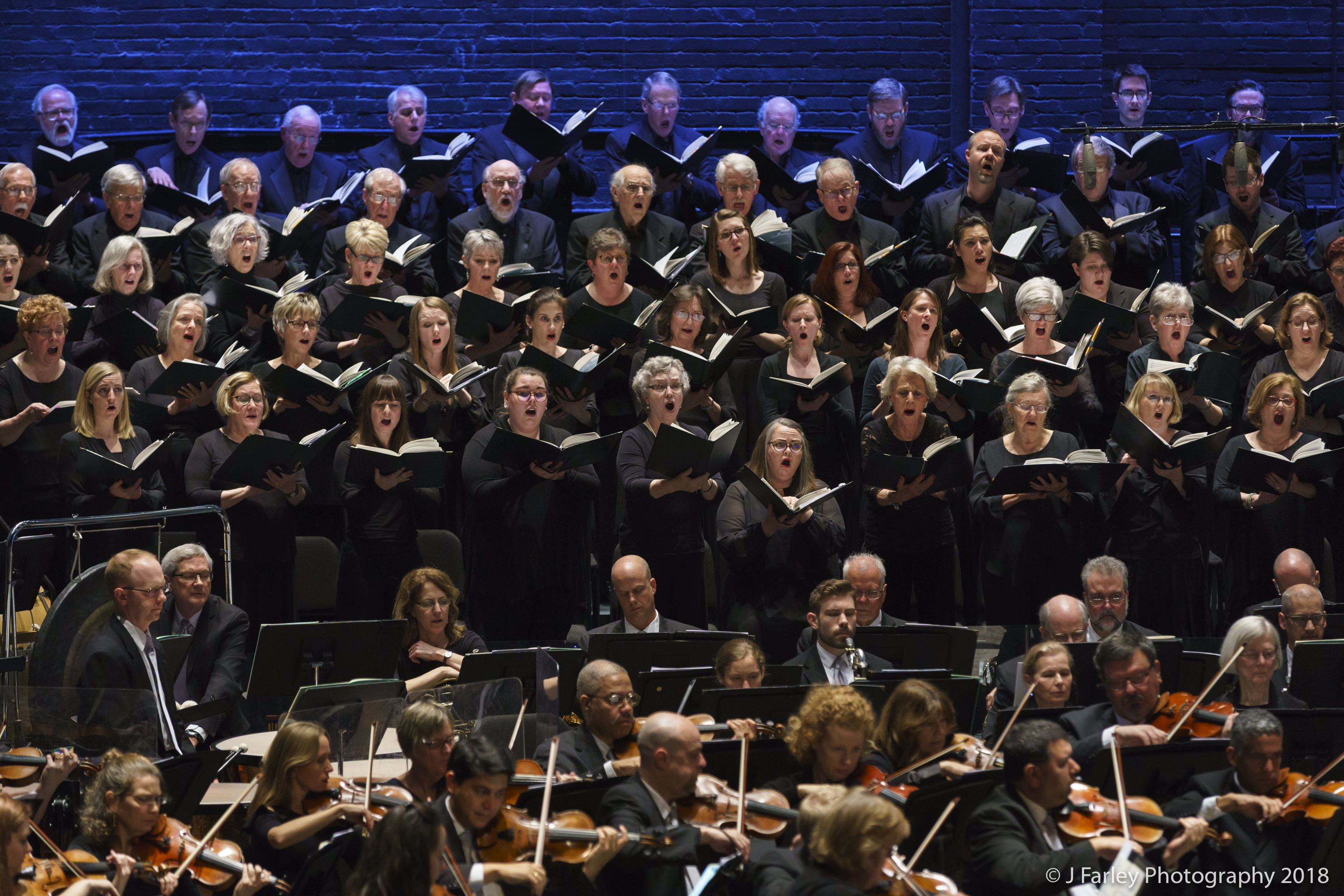 About the Symphony Chorus
The Winston-Salem Symphony Chorus traces its beginnings to the 1940's when there were three separate choral ensembles in Winston-Salem. The three ensembles merged in 1960 to the Singers' Guild. In the years following their union, the Singers' Guild collaborated frequently with the Symphony, and in the fall of 1971 merged with the Symphony to become known as the Winston-Salem Symphony Chorale. In 2018 the organization became known as the Winston-Salem Symphony Chorus. The Symphony Chorus has been directed by David Partington, Norman Johnson, Peter Perret, Donald Armitage, James Allbritten, and Dr. Carole J. Ott, and currently is under the direction of Dr. Christopher Gilliam. The Chorus is an auditioned symphonic choir made up of volunteer singers, many of whom are professionally trained and who also sing professionally in the region and beyond. The Symphony and Symphony Chorus combine annually to perform large choral masterpieces which in recent seasons have included Haydn's Creation, Orff's Carmina Burana, and the Requiem masses of Berlioz, Brahms, Mozart, and Verdi. The Chorus also joins the Symphony on earlier, smaller-scale works such as the Bach Passions and an annual production of Handel's Messiah. Additionally, the Winston-Salem Symphony Chorus performs stand-alone concerts in local venues apart from the Symphony concert hall, providing intimate and moving choral experiences for audiences annually.
---
Join Us!
Open auditions for the 2018-2019 Season are now closed. Auditions for the 2019-2020 season will be held late summer 2019 (August timeframe). Please check back to this page or the WS Symphony Chorus Facebook page in late July or early August for announcements regarding those auditions.
---
Follow Us!
Contact the Symphony Chorus via email at chorus@wssymphony.org.
---
Symphony Chorus Council
Chair: Lew Saphar, Jr.
Chair-elect: Ken Carpenter
Librarian: Isabelle Berquin
Treasurer: Carlie Spainhour
Social Media Coordinator: Erin Doby
Social Chair: Lyle Jaffe